Please add this worship song to your online church sermon, morning devotion, or evening quiet time.
Today's song is "The Power of the Cross" by Keith and Kristyn Getty
"For the message of the cross is foolishness to those who are perishing, but to us who are being saved it is the power of God."
1 Corinthians 1:18 (NKJV)
"You could have no power at all against Me unless it had been given you from above.  Therefore, the one who delivered Me to you has the greater sin."
John 19:11 (NKJV)
"But this is your hour, and the power of darkness."
Luke 22: 52 (NKJV)
During His ministry, Jesus referred many times to an hour, an hour that was not yet to be, a postponed hour.  This hour could not be set by Satin or man; it could not be rushed or delayed.  This hour would only be established in the economy of God, with Jesus' complete submission.  In the garden of Gethsemane, when soldiers tried to arrest Him, Jesus now said, "This is your hour and power of darkness."  Jesus knew this was now His appointed hour, that He would willingly sacrifice and submit to the cross, bearing our sins, for the salvation of humanity.  Although mocked by the Roman Soldiers, "If you are the King of the Jews, save yourself," Luke 23: 36-37 (NKJV)  Jesus would prove His love for each of us when He willingly gave of His own life to give us life everlasting.
Why would Jesus say, "But this is your hour, and the power of darkness?"
Jesus knew the hour, and He knew the power of darkness was powerless to extinguish His light and powerless over death.  Jesus knew what the chief priest, elders, scribes, Pharisees, Sadducees and others who looked upon the cross did not know.  Jesus knew the power of the Cross.
Through the power of the Cross,
He would save us from a death that we truly deserve!
He would give pardon, peace, power and purity!
He would Reign as King for eternity!
There is Power in the Cross!
In Christ,
Lou-Anne
If this Song of Praise was a blessing and encouragement to you, if you know someone who needs comfort, encouragement or hope, or someone who loves to sing and praise with Contemporary Christian Music, please share this site or contact me.  I will be pleased to provide you with business cards to share with friends and family.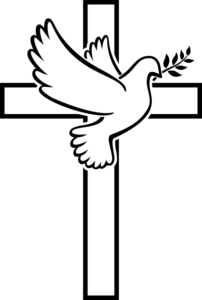 Power of the Cross
Lyrics
O, to see the dawn of the darkest day;
Christ on the road to Calvary;
Tried by sinful men, torn and beaten, then
Nailed to a cross of wood.
This the power of the cross:
Christ became sin for us;
Took the blame, bore the wrath;
We stand forgiven at the cross!
O, to see the pain, written on Your face,
Bearing the awesome weight of sin;
Every bitter thought, every evil deed
Crowning Your bloodstained brow.
Now the daylight flees; now the ground beneath
Quakes as its Maker bows His head.
Curtain torn in two, dead are raised to life;
""Finished!"" the victory cry!
O, to see my name written in the wounds,
For through Your suffering I am free.
Death is crushed to death, life is mine to live,
Won through Your selfless love!
This the power of the cross;
Son of God slain for us.
What a love, what a cost!
We stand forgiven at the cross!
2005 Thankyou Music (Admin. by Capitol CMG Publishing)
May we grow together in the love of Christ to reflect upon the mercies and blessings upon our lives, to feel the presence of God's living Holy Spirit through worship, to sing, pray, laugh, dance, cry, but mostly to praise our Lord and Father as we were indeed created2praise.