Please add this worship song to your online church sermon, morning devotion, or evening quiet time.
Today's song is "Nobody" by Casting Crowns
"But we have this treasure in jars of clay to show that this all-surpassing power is from God and not from us."
2 Corinthians 4:7 (NIV)
"This is how God showed His love among us: He sent His one and only Son into the world that we might live through Him."
1 John 4:9 (NIV)
If anyone acknowledges that Jesus is the Son of God, God lives in them and they in God.
1 John 4:15 (NIV)
Have you ever thought I'm just ordinary, I'm not smart enough, brave enough, wealthy enough, I've done some pretty stupid things in my life, everyone would laugh at me if I try, I've failed so many times I can't even count my failures, I couldn't amount to anything good if my life depended on it, especially anything of any value for the kingdom of Christ?  And it goes on and on and on….
We already know the Good news, don't we?  God did, and He continues to use ordinary people all the time.  Over and over again, we find in the Bible that God turned people that were just regular, ordinary everyday, nobodies with everyday problems into somebodies, able to do extraordinary works for His Kingdom.  Today's song "Nobody" by Casting Crowns speaks of the "Nobodies" over history that, when yielded to him, would achieve extraordinary supernatural results for Him.  God has, does, and will continue to use everyday nobodies regardless of their past actions, status, class, gender, or occupation.
These are always comical to read and fun to think about how God used everyday nobodies with everyday problems, trials, and shortcomings within the pages of His Word to advance His Kingdom as well as prepare for the arrival of Jesus Christ:
Abraham, an old nomad, became the father of many nations
David, a mere shepherd boy, became a dynamic leader and king.  Oops, he was an adulterer too
Elijah battled depression but was used to be a prophet and heroic man of God
Ester, an orphan, became the queen
Hosea, a marital failure, prophesied to save Israel
Isaiah, a man of unclean lips, prophesied the birth of Jesus Christ
Jacob, a cheater, a deceiver, was transformed and made the father of the twelve tribes of Israel
James and John, ordinary fishermen, became close disciples of Jesus Christ
Deborah, a housewife, became a judge, known for her wisdom and courage and faith and action.
John the Baptist, a vagabond, became the forerunner of Jesus Christ
Jeremiah, a child, spoke boldly as the Lord's prophet
Jonah ran from God but peached to Ninevah to repent
Joseph, an enslaved person and prisoner, became prime minister
Joshua, an assistant, became an extraordinary leader
Lazarus was dead but would serve as a witness to Jesus' claim to be the Son of God.
Martha was a worrier yet a friend of Jesus.
Mary, an unknown virgin, gave birth to the Son of God
Matthew, a government employee, became an apostle
Gideon, a coward, became a warrior for God.
Miriam was gossip but was instrumental as one of the first woman activists, teaching women and leading them in song and music.
Moses, a stutterer, became a mighty leader
Noah was a drunk but became the second father of the human race
Paul, a persecutor of Christians, became the greatest missionary of times as well wrote much of the New Testament
Peter had a temper, but part of the twelve
Rahab was a prostitute but let herself be used by God as a biblical heroine
Sara, was impatient but had her first child in her nineties
Thomas was a doubter but part of the twelve
Zaccheus was short but cool enough for Jesus to visit for tea
Oh, and there are so many more….
Just as God used these fallen people of Bible times, God still uses us today.  Since the beginning of time, we have all been a bunch of nobodies.  God works in mighty ways, for when we, a bunch of nobodies, with our tarnished and checkered past, weak, fallen and broken bodies, minds, and spirits, yield to His promptings, something supernatural and extraordinary happens, and that is that the everyday nobody is promoted to a God's somebody to achieve phenomenal results.  Most importantly, God's power, glory, and majesty are then displayed in greatness for the world to see.
The point of the song, and we are reminded today:
At the end of any accomplishment we may have, may Jesus Christ alone receive the glory, honour, and praise, for He conquered the cross, grave, and death to reign as King of Kings and Lord of Lords for evermore.  Today, may we see, "Nobody but Jesus!"
In Christ,
Lou-Anne
If this Song of Praise was a blessing and encouragement to you, if you know someone who needs comfort, encouragement or hope, or someone who loves to sing and dance with Contemporary Christian Music, please contact me.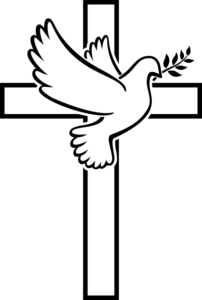 Nobody
Lyrics
Why You ever chose me
Has always been a mystery
All my life I've been told I belong
At the end of the line
With all the other not-quites
With all the never-get-it-rights
But it turns out they're the ones You were looking for
All this time
'Cause I'm just a nobody
Trying to tell everybody
All about Somebody
Who saved my soul
Ever since You rescued me
You gave my heart a song to sing
I'm living for the world to see
Nobody but Jesus
I'm living for the world to see
Nobody but Jesus
Moses had stage fright
When David brought a rock to a sword fight
You picked twelve outsiders nobody would have chosen
And You changed the world
Well the moral of the story is
Everybody's got a purpose
So when I hear that devil start talking to me saying
"Who do you think you are?"
I say
So let me go down, down, down in history
As another blood-bought faithful member of a family
And if they all forget my name, well that's fine with me
I'm living for the world to see
Nobody but Jesus
Source: Musixmatch
Songwriters: Mark Hall / Matthew Joseph West / Bernhard Herms
Nobody lyrics © Chatawa Music, My Refuge Music, Highly Combustible Music,
House Of Story Music Publishing, Be Essential Songs, Songs Of Peer Ltd, One77 Songs,
Works By Pure Note Songs, Avex Usa Hits, Anthem Highly Combustible Music
May we grow together in the love of Christ to reflect upon the mercies and blessings upon our lives, to feel the presence of God's living Holy Spirit through worship to sing, pray, laugh, dance, cry, but mostly to praise our Lord and Father as we were indeed created2praise.