Please add this worship song to your online church sermon, morning devotion, or evening quiet time.
Today's song is "No More Night" by David Phelps
"Then the angel showed me the river of the water of life, as clear as crystal, flowing from the throne of God and of the Lamb down the middle of the great street of the city. On each side of the river stood the tree of life, bearing twelve crops of fruit, yielding its fruit every month. And the leaves of the tree are for the healing of the nations.  No longer will there be any curse. The throne of God and of the Lamb will be in the city, and His servants will serve Him.  They will see His face, and His name will be on their foreheads.  There will be no more night. They will not need the light of a lamp or the light of the sun, for the Lord God will give them light. And they will reign forever and ever."
Rev 22:1-5 (NIV)
"Then I saw "a new heaven and a new earth," for the first heaven and the first earth had passed away, and there was no longer any sea.  I saw the Holy City, the new Jerusalem, coming down out of heaven from God, prepared as a bride beautifully dressed for her husband.  And I heard a loud voice from the throne saying, "Look! God's dwelling place is now among the people, and He will dwell with them. They will be His people, and God himself will be with them and be their God.  'He will wipe every tear from their eyes. There will be no more death or mourning or crying or pain, for the old order of things has passed away."
Revelation 21:1-4
What an amazing assurance that if we put our faith and trust in Christ Jesus, our problems, trials, sorrow, pain, sin, and death will be gone forevermore.  The moment we step on Heaven's shores, we will be in the presence of our almighty Heavenly Father, full of love, glory, beauty, radiance, and majesty.
Imagine an eternity without satin, temptations, hunger, disease, prejudice, envy, hatred, disease, demons, evil, violence, murder, or war, but an eternity of everlasting life filled with righteousness, holiness, love, life, and praise.  Apostle Peter writes, "Nevertheless we, according to His promise, look for new heavens and a new earth, wherein dwelleth righteousness."  2 Peter 3:13 (KJV)
Imagine understanding God's greater work and how His perfect will had been woven together for Christ's Kingdom and now understanding His perfect plan; all of our earthly questions answered in a single moment.  In the second half of 1st Corinthians chapter 13:12, we read, "Now I know in part; then I shall know fully, even as I am fully known."  1 Corinthians 13:12 (NIV)
It is hard to imagine what our first day of eternity will look like, feel like, smell like, and sound like when we are in the presence of our Lord and Saviour.  In Paul's letter to the Corinthians, we read, "What no eye has seen, what no ear has heard, and what no human mind has conceived" the things God has prepared for those who love him."  1 Corinthians 2:9 (NIV)  Imagine how our feet will soar, how we will run in meadows, how our ears will allow us to hear Heavenly choirs, how our lips will taste from the Everlasting Tree of Life, how our nostrils will breathe in new unimaginable fragrances, how our taste buds will be quenched by the refreshing water from the river of life, and how our bodies will be new, transformed, never to grow old, tired, weary, or decayed.  Imagine the things to do, things to learn, explorations to participate in, and people to meet.  Imagine being reunited with our family, loved ones, and dear friends?  Imagine the stories and discussions with Noah, Abraham, Isaac, Jacob, Isaiah, Jeremiah, Moses, Sampson, Daniel, Mary, Martha, Matthew, Mark, Luke, and John?  Imagine, gone are the days of worry, stress, anxiety, depression, anger, and sadness; but now, an eternity filled only with laughter, joy, peace, understanding, and love.  Imagine your new name given by our Heavenly Father.  Just as God changed Abram's name to Abraham, Sarai to Sarah, Jacob to Israel and Simon to Peter, Revelation 2:17 and 3:12 reveal that we too shall receive a new name.  Our new name will represent our new nature and our relationship with Him.  This name, patterned after God, will link us to Him for eternity.   Can you imagine what your new name, given by our Lord God Himself, will be?  As special as our birth name is to each of us, imagine being named by the King of King, Lord of Lord, and Creator of the heavens and earth.  Imagine what your new name may sound like.  Imagine hearing your name called for the first time by none other than the creator of the heavens and earth.  Think again, will our new name represent conquer, faithful, overcoming, joyful, builder, teacher, friend, obedient?
Whatever that name is, I can only imagine it will declare us as victors in Christ.
As spectacular as our earth's wonders, the heights of its mountains, depths of its oceans, plains of its deserts, jungles of its rainforest, formations of its clouds, and the artistry in its nature, this abused and destroyed world we live in, imagine, our new perfect world that will be untouched by greed, abuse, and sin.  A new world with sights, sounds, sensations, wonders, grandeur, and vastness that we could not begin to imagine.  Imagine our new home's beauty and brilliance in the perfect up-scale community, our new home created just for us with perfect workmanship and perfection.  In the Revelation of Jesus Christ, we read, "The foundations of the city walls were decorated with every kind of precious stone. The first foundation was jasper, the second sapphire, the third agate, the fourth emerald, the fifth onyx, the sixth ruby, the seventh chrysolite, the eighth beryl, the ninth topaz, the tenth turquoise, the eleventh jacinth, and the twelfth amethyst.  The twelve gates were twelve pearls, each gate made of a single pearl. The great street of the city was of gold, as pure as transparent glass."
Revelation 21:19–21. (NIV)
Now, this is upscale living at its finest!
Imagine an eternity with no need for the sun, moon, or stars; an eternity that Jesus Christ alone is our light, and the glory of God will illuminate all.  Apostle John writes, "The city does not need the sun or the moon to shine on it, for the glory of God gives it light, and the Lamb is its lamp."  Revelation 21:23 (NIV)  How can we even begin to imagine what it will feel like, how our hearts will burst when we meet Jesus for the first time?  The One who sacrificed for us, provided for us, petitioned for us and loved us.  Imagine the compassion, the love, the light from our Lord and Savior.  Imagine when our eyes behold our Heavenly Father and Creator face to face in all of His radiance.  In the letter to the Corinthians, we read, "For now, we see only a reflection as in a mirror; then we shall see face to face."  1 Corinthians 13:12 (NIV)  Imagine touching our Father's Hand, of pure love, life, perfection, and righteousness.  We can be encouraged when we read from Isaiah, "For I am the Lord your God who takes hold of your right hand and says to you, Do not fear; I will help you."  Isaiah 41:13 (NKJV)
Imagine eternal praise and worship of God our Father and Jesus our Lord and Saviour, with the presence of the Holy Spirit.  What a choir, what a celebration, what rejoicing, what glory, what praise and worship that will be!!!
Today let's stop and give thanks, being encouraged and uplifted by tenor vocalist David Phelps with the message that one day, a day not all that far away, "there will be no more night, no more pain, never crying again," for we know today, that when we put our faith and trust in the Lord God Almighty as John wrote in final verses of the book of The Revelation of Jesus Christ, "He will wipe every tear from our eyes.  There will be no more death or mourning or crying or pain, for the old order of things has passed away.  He who was seated on the throne said, 'I am making everything new!'  Then he said, Write this down, for these words are trustworthy and true."  Revelation 21:4-5 (NIV)
In Christ,
Lou-Anne
If this Song of Praise was a blessing and encouragement to you, if you know someone who needs comfort, encouragement or hope, or someone who loves to sing and praise with Contemporary Christian Music, please share this site or contact me.  I will be pleased to provide you with business cards to share with friends and family.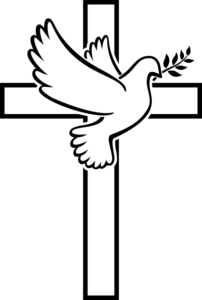 No More Night
Lyrics
The timeless theme, Earth and Heaven will pass away.
It's not a dream, God will make all things new that day.
Gone is the curse from which I stumbled and fell.
Evil is banished to eternal hell.
No more night. No more pain.
No more tears. Never crying again.
And praises to the great "I AM."
We will live in the light of the risen Lamb.
See all around, now the nations bow down to sing.
The only sound is the praises to Christ, our King.
Slowly the names from the book are read.
I know the King, so there's no need to dread.
See over there, there's a mansion, oh, that's prepared just for me,
Where I will live with my saviour eternally.
All praises to the great "I AM."
We're gonna live in the light of the risen Lamb.
Words & music by Walt Harrah © 1984 Word Music (ASCAP)
May we grow together in the love of Christ to reflect upon the mercies and blessings upon our lives, to feel the presence of God's living Holy Spirit through worship, to sing, pray, laugh, dance, cry, but mostly to praise our Lord and Father as we were indeed created2praise.