Please add this worship song to your online church sermon, morning devotion, or evening quiet time.
Today's song is "Man On the Middle Cross" performed by Rhett Waler
"For this reason I kneel before the Father, from whom every family in heaven and on earth derives its name.  I pray that out of His glorious riches He may strengthen you with power through His Spirit in your inner being, so that Christ may dwell in your hearts through faith.  And I pray that you, being rooted and established in love, may have power, together with all the Lord's holy people, to grasp how wide and long and high and deep is the love of Christ, and to know this love that surpasses knowledge—that you may be filled to the measure of all the fullness of God.  Now to Him who is able to do immeasurably more than all we ask or imagine, according to His power that is at work within us, to Him be glory in the church and in Christ Jesus throughout all generations, for ever and ever! Amen."
Ephesians 3: 14-21 (NIV)
Today's song is "Man On the Middle Cross," performed by Rhett Walker.
Let's come to the cross of Christ today.  Let's look to the cross where the spotless Lamb of God shed His blood to redeem us, to restore us, and to wash us white as snow.  What an overwhelming love we see when we view the beaten, bruised, pierced body of our Lord Jesus Christ.
Now, let's lay down our hurts, fears, anxiety, doubts, sins, shame, and sorrow and invite Him into our hearts to change us from within.
Let's now Worship and adore Him, for our lives are forever changed.
Let's look again at the cross, notice the cross is now empty.  Our Redeemer and Saviour is no longer on it; His work is over, and He has triumphed over death.
He is risen, He has defeated death, He was found worthy.  He is seated on the right side of the Father where He will rule and reign for eternity.
If all of this is true, and it is, how certain can we be that anything we bring to the foot of the cross, our worries, cares, problems, Jesus' blood, has it all covered?
He brought me back to life when He rose from the grave!
In Christ,
Lou-Anne
If this Song of Praise was a blessing and encouragement to you, if you know someone who needs comfort, encouragement or hope, or someone who loves to sing and dance with Contemporary Christian Music, please contact me.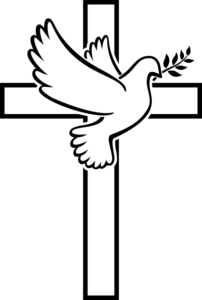 Man On the Middle Cross
Lyrics
Heard the Preacher talking about three wood crosses
Up on a hill everyone to see Two sinners on the outside couldn't save themselves if they tried All I could think is man that sounds like me
I've been the one on the left full of guilt and regret
Long gone on the wrong side of living I've been the one on the right always looking for a fight thinking I could never be forgiving I'm standing here today Overwhelmed by grace cause I know who paid my cost Thank God for the man on the middle cross
He didn't have to do it But for me it went thru it
A love like that I'lI never understand Lord knows I don't deserve it And I know I couldn't earn it Mercy rained down on this desperate man   The cross is where he went But that ain't where he stayed He brought me back to life when He rose up out of that grave Someday I'll stand before him See Jesus face to face I'll worship and adore him For a life forever changed
Source: LyricFind
Songwriters: AJ Pruis / Matt Jenkins / Matthew West / Rhett Walker
Man on the Middle Cross lyrics © Warner Chappell Music, Inc
May we grow together in the love of Christ to reflect upon the mercies and blessings upon our lives, to feel the presence of God's living Holy Spirit through worship to sing, pray, laugh, dance, cry, but mostly to praise our Lord and Father as we were indeed created2praise.