Please add this worship song to your online church sermon, morning devotion, or evening quiet time.
Today's song is "Make Room" performed by Casting Crowns and featuring Matt Maher
"I will give them a heart to know Me, that I am the Lord. They will be My people, and I will be their God, for they will return to Me with all their heart."
Jeremiah 24:7 (NIV)
"This will be a sign to you: You will find a baby wrapped in cloths and lying in a manger."
Luke 2:12 (NIV)
As I step into this Christmas season, I want to intentionally "make room" for Jesus.  In its simplicity, this week's song, "Make Room" by Casting Crowns and Matt Maher, moves me toward this.  I hope it will, for you as well.
As we look towards the manger and this season, may we see the beauty, holiness, and love displayed through this scene.  This scene is a simple setting of a trusting and obedient family and, most importantly, a tiny baby that would forever change the world.
Now, as we look to the manager, may we re-focus our eyes upon the cross.  A cross that we can lay our burdens down and trade our broken, battered dreams for His glory.  We are invited to come as we are, with our shortcomings, insecurities, and sinfulness, and lay them all at the foot of Jesus.  This is exactly what our Lord and Saviour, Jesus Christ had in mind for us when He entered our time and space two thousand years ago.  Jesus willingly came as that tiny baby to give His life on the cross.  He alone would bear the weigh, burden, and shame of our sins and transgressions upon the cross so that we would be reconciled to God our Father and have a full life in Christ.
Through the manger to the cross, Jesus promises to re-write our story.  Our story, which had been a story of discouragement, wounds, abandonment, anger, or fear, can be transformed into a story of love, hope, conqueror, confidence, and joyfulness—a life in Christ.
We offer all glory, honour, and praise to Jesus Christ, our Saviour!
In Christ,
Lou-Anne
If this Song of Praise was a blessing and encouragement to you, if you know someone who needs comfort, encouragement or hope, or someone who loves to sing and dance with Contemporary Christian Music, please contact me.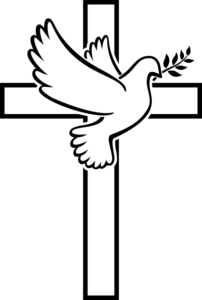 Make Room
Lyrics
A family hiding from the storm
Found no place at the keeper's door
It was for this a Child was born
To save a world so cold and hollow
The sleeping town, they did not know
That lying in a manger low
A Savior King who had no home
Has come to heal our sorrows
Is there room in your heart?
Is there room in your heart?
Is there room in your heart
For God to write His story?
Shepherds counting sheep at night
Do not fear the glory light
You are precious in His sight
God has come to raise the lowly
You can come as you are
But it may set you apart
When you make room in your heart
And trade your dreams for His glory
Make room in your heart
Make room in your heart
Mother holds the promise tight
Every wrong will be made right
The road is hands, He holds tomorrow
Make room in your heart
Make room in your heart
Source: Musixmatch
Songwriters: John Mark Hall / Matt Maher
Make Room lyrics © My Refuge Music, Be Essential Songs
May we grow together in the love of Christ to reflect upon the mercies and blessings upon our lives, to feel the presence of God's living Holy Spirit through worship to sing, pray, laugh, dance, cry, but mostly to praise our Lord and Father as we were indeed created2praise.