Please add this worship song to your online church sermon, morning devotion, or evening quiet time.
Today's song is "King of King's" by Saddleback Worship
"Praise be to the God and Father of our Lord Jesus Christ!  In His great mercy He has given us new birth into a living hope through the resurrection of Jesus Christ from the dead."
1 Peter 1:3 (NIV)
"For the joy that was set before Him He endured the cross, scorning its shame, and sat down at the right hand of the throne of God."
Hebrews 12:2  (NIV)
"Who through the Spirit of holiness was appointed the Son of God in power by His resurrection from the dead: Jesus Christ our Lord."
Romans 1:4 (NIV)
Hallelujah, Christ, the Lord is risen today!
Today let's celebrate Jesus' victory over the cross with Saddleback Worship, a joyful song of praise entitled "King of King's."
"Praise the Father
Praise the Son
Praise the Spirit three in one
God of glory
Majesty
Praise forever to the King of Kings."
In Hebrews, we read, "in joy," Jesus faced the cross set before Him.  How can we possibly understand a love like this?  How often do we love only because someone gave us a reason to love in return, and how deep is our love, in the best of times, not to mention in times of betrayal?  As soon as we are hurt or angered, we are ready to settle the score, dissolve the relationship, walk away, or have nothing to do with that person or establishment ever again.  Who of us would knowingly, with joy, endure a cross of shame that was laid on us by men that were only out to destroy, betray, or humiliate us; and then, with joy and understanding, sacrifice our own life so that it would benefit; save, rescue, and redeem the same men that were out to destroy us?
Paul writes, "…how wide and long and high and deep is the love of Christ."  Ephesians 3:18 (NIV)
The Love of Christ revealed to us through the Cross explains it all.  Hallelujah, what a Saviour!
Let's pray together
Father God, Maker of Heaven and Earth,
How we want to celebrate with You this morning, knowing full well that it is only because of Your love and completed work on the cross that we can even dare to be a part of a celebration today.
Father, we thank You that You found us in our darkness and made a way for our sins.  We thank You that Your love won over darkness and the darkness of our lives.
Today we celebrate with You that Jesus Christ, Your spotless Lamb, did indeed conquer death, this, for the will of the Father, this, for the salvation of all men willing to receive Your gift.
Today, through the Holy Spirit, please light within us a desire and strengthen our courage to go out with the same joy and determination that Christ Himself demonstrated before the Cross.  Even today, as we face injustices, betrayals, or difficulties, may we, with Your help, strength, and wisdom, joyfully face what is set before us for your Kingdom growth until your glorious return.
As we celebrate today, we want to praise the Father, the Son, and the Spirit three in one.  You are truly a God of Glory, A God of Majesty.
We cry out Holy, Holy, Holy, Lord God Almighty!
In the Name of the Father, Son, and Holy Spirit, Amen
In Christ,
Lou-Anne
If this Song of Praise was a blessing and encouragement to you, if you know someone who needs comfort, encouragement or hope, or someone who loves to sing and praise with Contemporary Christian Music, please share this site or contact me.  I will be pleased to provide you with business cards to share with friends and family.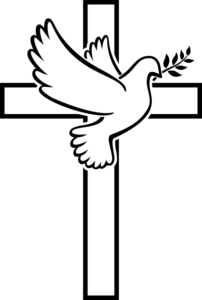 King of Kings
Lyrics
In the darkness we were waiting
Without hope without light
Till from heaven You came running
There was mercy in Your eyes
To fulfil the law and prophets
To a virgin came the Word
From a throne of endless glory
To a cradle in the dirt
Praise the Father
Praise the Son
Praise the Spirit three in one
God of glory
Majesty
Praise forever to the King of Kings
To reveal the kingdom coming
And to reconcile the lost
To redeem the whole creation
You did not despise the cross
For even in Your suffering
You saw to the other side
Knowing this was our salvation
Jesus for our sake You died
And the morning that You rose
All of heaven held its breath
Till that stone was moved for good
For the Lamb had conquered death
And the dead rose from their tombs
And the angels stood in awe
For the souls of all who'd come
To the Father are restored
And the Church of Christ was born
Then the Spirit lit the flame
Now this gospel truth of old
Shall not kneel shall not faint
By His blood and in His Name
In His freedom I am free
For the love of Jesus Christ
Who has resurrected me
Words and Music by Jason Ingram, Brooke Ligertwood & Scott Ligertwood
© 2019 Hillsong Music Publishing
May we grow together in the love of Christ to reflect upon the mercies and blessings upon our lives, to feel the presence of God's living Holy Spirit through worship, to sing, pray, laugh, dance, cry, but mostly to praise our Lord and Father as we were indeed created2praise.