Please add this worship song to your online church sermon, morning devotion, or evening quiet time.
Today's song is "Greater" by Mercy Me
"So if the Son sets you free, you will be free indeed."
John 8:36 (ESV)
"I have been crucified with Christ. It is no longer I who lives, but Christ who lives in me. And the life I now live in the flesh I live by faith in the Son of God, who loved me and gave Himself for me."
Galatians 2:20 (ESV)
Today's song "Greater" by Mercy Me encourages us to find our Freedom in Christ.
How often do we hear the world's voice shouting to us, whispering to us, badgering us, tormenting us, over and over again, that we are not enough?  We are not smart enough, rich enough, thin enough, young enough, pretty/handsome enough, cool enough, or brave enough.
Good News!  When we have Christ inside us, we hear another voice, a true voice, a voice of encouragement, hope, and freedom.  This voice confirms we are good enough; holy, righteous, and redeemed.  This voice rings freedom in Christ with the assurance that He will carry our burdens,  disappointments, shame, guilt and pain.  This voice exclaims, when paired up with the Lord of Creation, we too are conquerors since Jesus Christ our Lord and Redeemer defeated the cross and won that war!
Today let's be reminded of the greatness of Christ, available to every one of us.  This is true freedom, freedom in Christ!
"You, dear children, are from God and have overcome them because the One who is in you is greater than the one who is in the world."
1 John 4:4 (NIV)
In Christ,
Lou-Anne
If this Song of Praise was a blessing and encouragement to you, if you know someone who needs comfort, encouragement or hope, or someone who loves to sing and dance with Contemporary Christian Music, please contact me.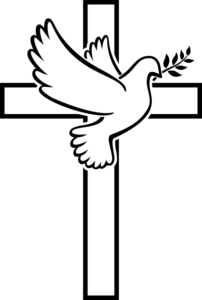 Greater
Lyrics
Bring your tired
And bring your shame
Bring your guilt
And bring your pain
Don't you know that's not your name
You will always be much more to me
Every day I wrestle with the voices
That keep telling me I'm not right
But that's alright
'Cause I hear a voice and He calls me redeemed
When others say I'll never be enough
And greater is the One living inside of me
Than he who is living in the world
In the world
In the world
And greater is the One living inside of me
Than he who is living in the world
Bring your doubts
And bring your fears
Bring your hurt
And bring your tears
There'll be no condemnation here
You are holy, righteous and redeemed
Every time I fall
There'll be those who will call me
A mistake
Well that's okay
There'll be days I lose the battle
Grace says that it doesn't matter
'Cause the cross already won the war
He's Greater, He's Greater
I am learning to run freely
Understanding just how He sees me
And it makes me love Him more and more
He's Greater, He's Greater
Source:  LyricFind
Songwriters: Donald L. Lawrence / Kevon Carter / Loren K. A. Mcgee
Greater lyrics © Capitol Christian Music Group, Capitol CMG Publishing,
Kobalt Music Publishing Ltd., Spirit Music Group, Universal Music Publishing Group
May we grow together in the love of Christ to reflect upon the mercies and blessings upon our lives, to feel the presence of God's living Holy Spirit through worship to sing, pray, laugh, dance, cry, but mostly to praise our Lord and Father as we were indeed created2praise.