Please add this worship song to your online church sermon, morning devotion, or evening quiet time.
Today's song is "End of the Beginning" by David Phelps
"Yours, O Lord, is the greatness and the power and the glory and the victory and the majesty, indeed everything that is in the heavens and the earth; Yours is the dominion, O Lord, and You exalt Yourself as head over all."
1 Chronicles 29:11
"For through Him we both have our access in one Spirit to the Father. So then you are no longer strangers and aliens, but you are fellow citizens with the saints, and are of God's household, having been built on the foundation of the apostles and prophets, Christ Jesus Himself being the cornerstone, in whom the whole building, being fitted together, is growing into a holy temple in the Lord, in whom you also are being built together into a dwelling of God in the Spirit." 
Ephesians 2;18-22
"He has made us a Kingdom of priests for God His Father.  All glory and power to Him forever and ever! Amen."
Revelation 1:6 (NLT)
"Then cometh the end, when he shall have delivered up the kingdom to God, even the Father; when He shall have put down all rule and all authority and power." 
1 Corinthians 15:24 (KJV)
An Epic Story!
From the first note, I believe we get a sense that we are about to hear something epic.  It is my opinion, the talented songwriter and proficient tenor voice of David Phelps does not disappoint when he performs "End of the Beginning," summarizing the epic story of the "Alpha and Omega, Beginning and End, the Great I Am " this song was inspired by the number one bestseller book of all time, the Bible.
Quick summary notes – Part 1
God the Father, the maker of heaven and earth, creates man in His own image.
Man falls (separated from God) when he eats from the tree of knowledge.
God creates a redemption plan to save mankind from their sins.
God becomes a man in human flesh when Jesus is born as a baby to a virgin by the power of the Holy Spirit.
Jesus one hundred percent God takes on the form of man, one hundred percent, living, breathing, being tempted, teaching, raising the dead, healing the sick, befriending the sinner, outcast, and downhearted.
Jesus' final act, (it appears) His sacrifice and death on a Roman cross.
"Three days later, he rose!
He came, He lived, and He died.
This is "The End of the Beginning."
Quick summary notes – Part 2
Christs' death turns out to be a told you so, gotcha moment when, three days later, the final victory is achieved; Christ rises from the dead, just as He said He would.
Christ ascends to the Father in a display of greatness and now sits at the right hand of God the Father, ruling and reigning as King of Kings and Lord of Lords.
Forty days later, with a sound of rushing, mighty wind, sign of fire as the shape of tongues, and accompaniment of "strange" gift of tongues.
This group of individual men who the Holy Spirit would baptize into a living relationship with Jesus Christ would be connected as one body in Christ.
Jesus is now available to every believer, twenty-four/seven by the Holy Spirit.
A new economy of the Spirit of God in human history is established.
The Church is born at that first Pentecost, the Spirit calling The Church to witness, speak, praise, prayer, and prophecy.
Holy Spirit then, as today, baptizes in Christ, seals in the covenant, teaches, convicts the sinner of his sins, dwells in the believer, is a source of wisdom, revelation, and power, intercedes for mankind, renews, sanctifies, makes men holy, gives eternal life, enables believers to produce good fruit.
This is, "The End of the Beginning"
Quick summary notes – Part 3
Jesus promises, "And if I go and prepare a place for you, I will come back and take you to be with me that you also may be where I am." John 14:3 (NIV)
Jesus promises He will one day return for judgment and gather His children to Himself.
Jesus claims, the Kingdom of Heaven will be delivered to the Kingdom of God for ages to come.
Jesus promises that those who endure will be rule and reign with Christ forevermore.
An epic story, I think so!
In Christ,
Lou-Anne
If this Song of Praise was a blessing and encouragement to you, if you know someone who needs comfort, encouragement or hope, or someone who loves to sing and praise with Contemporary Christian Music, please share this site or contact me.  I will be pleased to provide you with business cards to share with friends and family.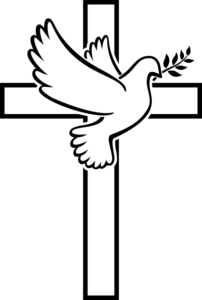 End of the Beginning
Lyrics
I was takin' a trip on a plane the other day
Just wishing that I could get out.
When the man next to me saw the book in my hand
And asked me what it was about.
So I settled back in my seat-
"A best seller," I said.
"A history, a mystery in one."
And then I opened up the book and began to read
From Matthew, Mark, Luke, and John.
He was born of a virgin one holy night
In the little town of Bethlehem.
Angels gathered round him underneath the stars
Singing praises to the great I Am.
He walked on the water, healed the lame and made the blind to see again.
And for the first time here on earth we learned that God could be a friend.
And though he never ever did a single thing wrong
The angry crowd chose him. And then he walked down the road
And died on the cross and that was the end of the beginning.
"That's not a new book that's a bible," he said, "and I've heard it all before.
I've tried religion- its shame and guilt and I don't need it anymore.
It's superstition, made up tales and just to help the weak to survive."
"Let me read it again," I said, "listen closely, 'cause this is gonna change your life.
"The end of the beginning," he said with a smile.
"What more could there be? He's dead.
You said they hung him, put nails in His hands
And a crown of thorns on His head."
I said, "I'll read it again but this time there's more,
And I believe that this is true.
His death wasn't the end, the beginning of life
That's completed in you.
Don't you see he did all this for you!"
Three days later
Three days later
Three days later
He rose!
Three days later he rose!
You see he came, he lived, and he died.
But that was the end of the beginning.
Written by: DAVID PHELPS
Lyrics © Capitol CMG Publishing
Lyrics Licensed & Provided by LyricFind
May we grow together in the love of Christ to reflect upon the mercies and blessings upon our lives, to feel the presence of God's living Holy Spirit through worship, to sing, pray, laugh, dance, cry, but mostly to praise our Lord and Father as we were indeed created2praise.